Festival Information
Program / Flyer (PDF) / Festival Channel / Venue and Tickets / Curators  / Media Relations / Team
The Artists
Haleh Seyfizadeh / Golnar Shahyar / Jivar Sheikholeslami / Solmaz Badri / Cymin Samawatie / Dena Gorginpoor / Zara Rojhellat / Zohre Gholipour / Yalda Abbasi / Shadi Behyar / Baran Mozafari / The Female Voice of Iran Orchestra
---
The Festival
Iran can look back at a unique and diverse history. Women have always played a big role in this rich and abundant multiethnic culture, where every region and group have their own form of expression, and they have also had a vital influence on Iranian music. But in the years after the 1979 Islamic revolution women were prohibited from singing solo in public, thus threatening to leave this cultural asset to total oblivion. Fortunately it has over the last years been possible to observe an exciting renaissance: the public interest in women's music is clearly growing, women are increasingly appearing in variety of musical activities and performances.
"Female Voice of Iran", curated by the Iranian ethnomusicologist Yalda Yazdani and Cymin Samawatie (Berlin), will for the first time stage 11 female singers from the younger generations originating from different regions of this huge country. Besides representatives for classical genres, like Haleh Seyfiayadeh, Solmaz Badri (both Tehran), Yalda Abbasi (North Khorasan), and Zara Roihellat (Mahabad), there will also be the likes of jazz musician Golnar Shahyar (Vienna/Tehran) and Tehran artist Shadi Behyar, who has dedicated herself to Iranian pop music. In addition to their solo performances the singers will team up with musicians from the international contemporary Berlin scene. As "Female Voice of Iran Orchestra" this constellation, under the guidance of Cymin Samawatie, will create a group composition that on the final evening of the festival will receive its world premiere.
Furthermore lectures, workshops with the singers performing at the festival, film portraits, and panel discussions with the festival curators will give the audience a unique insight into the abundant and active production of contemporary female Iranian musicians.
---
Program
Thursday, 16.03.2017

19:00
Opening Concert with Haleh Seyfizadeh & Ali Ghamsari group (Tehran), Golnar Shahyar Trio (Vienna/Tehran), Jivar Sheikholeslami (Tehran) and the Jivar Ensemble

Friday, 17.03.2017

11:00
"Female voice of Iran" – The role of women in music in Revolutionary Iran – Introduction lecture by Yalda Yazdani, ethnomusicologist (in English)
16:00
Workshop The "Makaam" concept in Kurdish music with Sasan Samadi, Mahabad
19:00
Concert with Solmaz Badri & Hesardastan Band (Tehran), Cymin Samawatie and her band Cyminology (Berlin), Dena Gorginpoor and her trio (Tehran/ Italy), Zara Rojhallat and her Ensemble Wafayi (Mahabad)

Saturday, 18.03.2017

11:00
11 female musicians from Iran and their lives
Film portraits and panel discussion, moderation: Cymin Samawatie and Yalda Yazdani
16:00
Workshop The "Dastgah" concept in Iranian music with Ali Ghamsari, Tehran
19:00
Concert with Zohre Gholipour Duo, Yalda Abbasi and Naazaar Ensemble (North Khorasan), Shadi Behyar and her band (Tehran), Baran Mozafari and the Hamnava Ensemble (Bushehr, Persian Gulf)

Sunday, 19.03.2017

11:00
Matinee concert with improvised chamber music
New energies and instrumental music, emerging from different regions, styles and personalities. An improvisatory encounter between musicians from Iran and Berlin.
16:00
Workshop "The female voice"
Traditional, Iranian voice techniques with 3 singers, moderated by Cymin Samawatie
19:00
Female Voice of Iran Orchestra
Concert under the artistic direction of Cymin Samawatie with all musicians of the festival
---
Venue and Tickets
Villa Elisabeth, Invalidenstraße 3, 10115 Berlin
Connection: U8 Rosenthaler Platz, S1/2/25 Nordbahnhof, Tram M8/12 Brunnen/Invalidenstr. No onsite-parking.
Tickets: 15/10 €, daily ticket: 20/15 €, Festivalpass: 30/20 €, Panels, Workshop, Matinee: 7/5 €. Reservations: ticket@zeitgenoessische-oper.de
---
Curators
Yalda Yazdani and Cymin Samawatie
Yalda Yazdani and Cymin Samawatie are two women who have come together to build a cultural bridge to present Iranian Women's Song to Germany. Yalda, an Iranian musician and ethnomusicologist, has been working academically on the topic of the female voice of Iran since 2009. With this festival she hopes to give people all over the world the opportunity to hear these women, whose voices are an integral part of Iranian cultural heritage. Cymin Samawatie as is a vocalist, composer and conductor who was born to Iranian parents in Germany. In the festival, "Female voice of Iran," she will form an orchestra of eleven female singers and their bands, hailing from Iran's various ethnic groups, as well as musicians from Berlin. Collaborating with German musicians not only gives a very unique color to the orchestra's music, but also opens a new path for further cultural connections between these two nations.
---
The Artists
---
Haleh Seyfizadeh
Haleh Seyfizadeh is a young singer who for a considerable part of her life has committed herself to learning and performing classical Iranian music. In 2000 she began performing with the Ali Ghamsari Ensemble. On stage she performs traditional music accompanied by quiet, new musical arrangements or compositions. She has performed in various documentary film scores and theatres in Iran. She recently began to perform internationally with the Yade-Doost women ensemble.
Band
Ali Ghamsari, Tar, composer
Amir Farhang Eskandari, Oud
Kamran Montazeri, Tombak
Links
Video: Haleh Seifizadeh & Ali Ghamsari group, Moscow 2015
Video: Wake up with my lullaby
Ali Ghamsari's Soundcloud
---
Golnar Shahyar
Born and raised in Tehran at the time of the Iran-Iraq war, Golnar Shahyar is a singer, multi-instrumentalist and composer, based in Vienna, Austria. At the age of 16 she moved with her family to Canada and got her bachelor's degree in biology at York University in Toronto. Her passion for music and singing led her to Vienna in 2008, where she studied jazz singing and guitar at the University of Music and Performing Arts. Golnar is one of the pioneers in mixing Iranian music with jazz and improvised music, and has performed with different local and international bands since 2011. With her diverse voice she interprets her own lyrics in Farsi and English, as well as her fantasy language, and sometimes she uses as well modern as classical Iranian poetry.
Band
Mahan Mirarab, special Guitars
Mona Matbou Riahi, Clarinet
Links
Video: Sehrang – Khorshide Tariki – april 2014 sessions
Video: Sehrang – Mosafer – live
Golnar Shahyar's YouTube Channel
Golnar & Mahan's YouTube Channel
Golnar Shahyar's Facebook Page
Golnar Shahyar's Website
Mahan Mirarab's YouTube Channel
---
Jivar Sheikholeslami
Jivar Sheikholeslami was born in Sanandaj, the capital of the Kordestan province in Western Iran, where Sorani, a Kurdish dialect, is the main language. At a very young age Jivar Sheikholeslami tried to establish the first all female band in the region. She has been organizing performances specifically for female audiences in Sanandaj and Tehran for more than 15 years now. The performances present Kurdish melodies and lyrics in the different dialects as well as classical Persian music with Farsi lyrics, thereby being accessible for women audiences from all over Iran.
Jivar Ensemble
Asoo Naderi, Daf-Dayere-Bendir
Mahzad Kheradmand, Kamanche
Tina Lajevardian, Oud
Parastoo Moradi, Tar
Sahar Mirhashemi, Kanun
Atoosa Afshari,Tombak
Mahnaz Kashani, Gheychak
Bahman Behmaram, Composer
Links
Video: Jiwar – New – Vin Tv 2012
---
Solmaz Badri
Solmaz Badri is a talented young singer working within the classical Persian musical tradition. She started learning music in Tehran at a very early age. Her voice has a specific colour, mastered by very few singers. She is very much inspired by old traditional voices but she has her own unique way of performing. She is very gifted in the art of improvisation.
Hesardastan Band
Ehsan Zabihifar, Kamanche
Negar Bouban, Oud
N.N., Tombak
Links
Video: Solmaz Badri
Video: Persian Music: 'Mosem Gol' By Mosa Maroufi & Solmaz Badri
Solmaz Badri's Facebook page
Solmaz Badri's Soundcloud
---
Cymin Samawatie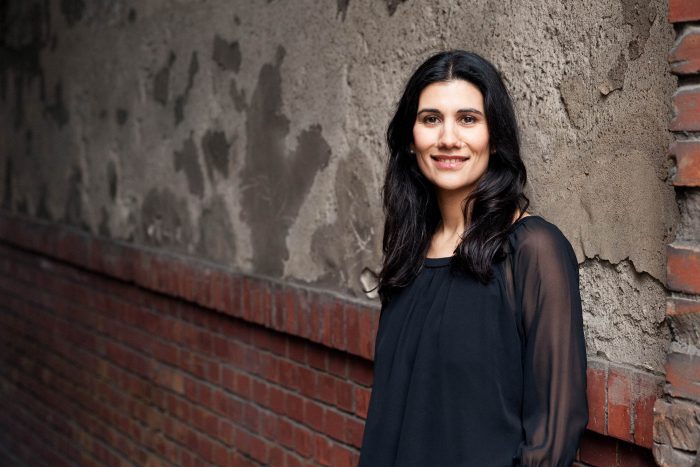 Born to Iranian parents in Germany, Cymin Samawatie was raised bilingually and biculturally. She studied classical music in Hannover, focusing on percussion and piano, as well as jazz voice and composition in Berlin. Cymin Samawatie's compositions combine the musical colours of impressionism and the vitality of contemporary jazz with the beauty of Persian poetry.
Cyminology
Martin Stegner, viola
Benedikt Jahnel, piano
Ralf Schwarz, double bass
Tobias Backhaus, drums
Links
Video: Cyminology – Por Se Ssedaa
YouTube Channel: Divan der Kontinente
Cyminology Facebook Page
Cyminology Website
Divan der Kontinente Website
Cymin Samawatie Website
---
Dena Gorginpoor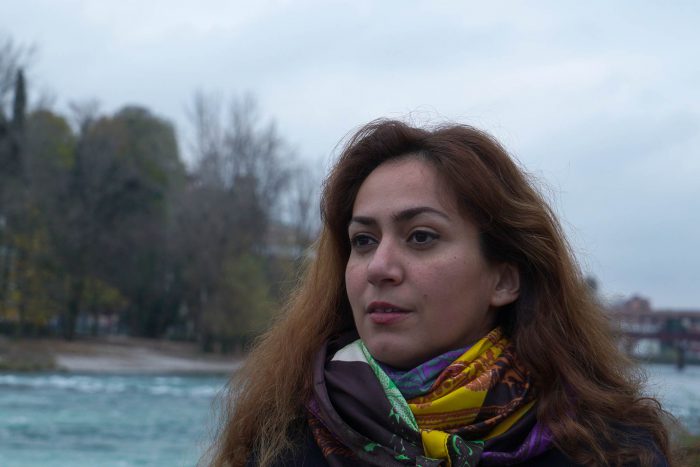 The Qashqai are one of the oldest nomadic peoples, and to a large degree they maintained an ancient lifestyle until the last decade. They are a Turkic-speaking confederation of Eurasian and Turkic tribes. Dena Gorginpur is one the last Qashqai women to have experienced part of her childhood in the nomadic, tribal tradition, as generally the following generations started to settle in urban environments. Dena was born into one of the oldest Qashqai family dynasties of musicians, so the traditional music was an integral part of her life from the day she was born. She is one of the very few women in Iran who can remember and perform the pure melodies of the Qashqai tribes.
Links
Payam Jahanmani's Facebook Page
---
Zara Rojhellat
Mahabad is a city in North-western Iran, and the inhabitants speak the Sorani Kurdish dialect. Music in Mahabad has an unbreakable connection to people's daily lives. Zara Rojhellat started singing at a very early age in Mahabad, a large part of her family and relatives being musicians. She thus had the chance to learn the old Kurdish Makams (melody patterns) by playing and singing with older musicians. She has a technically very well trained voice and is highly skilled in the improvisational Kurdish musical tradition.
Ensemble Wafayi
(Wafayi, 1844–1902, was a Kurdish poet, born in Mahabad)
Rahmat Ebrahimian, Tombak
Farid Veysi, Oud
Reza Abollah, Tar
Sasan Samadi, Kamanche
Links
---
Zohre Gholipour
Zohre Gholipour is a singer who has spent a big part of her life studying and performing classical Iranian music. Tehran hosts numerous female singers in this genre, but Gholipour has a special niche due to her ability to pitch her voice in a very low register, a rarity in Iran. She has also studied Arabic musical tradition extensively, studies that have influenced her style of singing greatly. Her performances create a unique merger of the two musical styles.
Band
Siavash Imani, Tar
Links
Video: Tar Iman Vaziri Zohreh
Siavash Imani's Soundcloud
---
Yalda Abbasi
Khorasan is the biggest province of Iran located in the Northeast. In Northern Khorasan Kurdish people speak the Kurmanji dialect. These Kurds were exiled from Northwestern Iran after the War in 1610 between the Kurds and the Safavid Empire. The music of this region is mostly very tragic, as these people had lost many of their family members and relatives. Today Yalda Abbasi is the youngest Kurdish singer in this region, and she started learning traditional Northern Khorasan music at the age of 12. The lyrics of her songs are always based on the real life stories of women prisoners of war. She recently moved to Italy to develop her singing by studying Baroque music.
Naazaar Ensemble
Fatemeh Esmailian-zare, Voice
Marjan Ravandi, Oud
Farideh Sarsangi, Tombak
Melina Faraji, Santoor
Mehrzad Kheradmand, Kamanche
Maral Khalili, Daf
Links
Video: Yalda Abbasi Lê Yarê
Video: Yalda Abbasi – Mihricana Çand û Hunerê ya Kurdî
Yalda Abbasi's Facebook Page
Yalda Abbasi's Telegram Channel
Yalda Abbasi's Soundcloud
Yalda Abbasi's Website
---
Shadi Behyar
Shadi Behyar was born in Mahabad in Northwestern Iran, but decided to move to Tehran at a young age. She studied classical Persian music, but after a few years she felt she had lost the feel of her real voice while singing traditional music, and thus decided to follow her instinct and become a pop singer. At that time Iran had very few female pop singers, so Shadi Behyar became something of a trailblazer. She performs in Kurdish and Farsi. Shadi has a strong personality, being a woman who was disabled at a very young age. She never gave up on her dream of singing, even though she knew she might not get a permission to perform live with her band in Iran.
Band
Shamal Charkhandaz, Bass Guitar/ Spanish Guitar
Morteza Kazemi, Electric Guitar and Keyboard
Elham Zarenezhad, Daf – kakhen – Tamburin – Kalimba
Links
Video: Shadi 'Khooneye Delgir'
Video: Xoshtrin gorani kurdi 2016 track 26
Shadi Behyar's Facebook-Page
Shadi Behyar's Telegram Channel
---
Baran Mozafari
Bushehr is a city in Southern Iran, close to the Persian Gulf. It has a very rich cultural history, dating back to around 2200 BC. Folk music of the South is one of the most vibrant music genres in Iran with a wide religious texture. Lyrics are mainly tragic, but there are also many melodies specifically for weddings and other happy occasions. Unfortunately these songs have not been performed to a great extent by women, and they are disappearing over time. Baran Mozafari is one the very few women in the region trying to keep the traditions of their mothers' generation's singing styles alive. She only sings cheerful melodies from this region to send the message to the world that the music of Bushehr is not only used for tragic occasions and that it has a very bright side too.
Hamnava Ensemble
Mehran Ghaedipour, Kamanche
Reza Zalpour, Ney
Hamid Dashtinejad, Santoor
Amin Golestani Araghi, Oud
Links
Video: Hamanava Ensemble-Dey Dey
Hamnava Music YouTube Channel
Hamnava Music Facebook Page
Baran Mozafari's Telegram Channel
---
The Female Voice of Iran Orchestra
the musicians from Berlin
Liz Allbee, Trumpet
Korhan Erel, Electronics
Tilmann Dehnhard, Bass-transverse flute
Susanne Fröhlich, Recorder
Taiko Saito, Mallets
Uygur Vural, Cello
Milan Vogel, Bass Clarinet & electronics
Susanne Zapf, Violin
---
Media Relations
fabrikpublik, kreatives PR- & Projektmanagement
Christiane Dramé
Tel. 030 – 44 71 72 49
Mob. 0173 874 19 39
christiane.drame@fabrikpublik.de
Uta Rügner
Tel. 030 – 97 98 70 45
Mob. 0179 774 02 97
uta.ruegner@fabrikpublik.de
Links
---
The Festival Team
Yalda Yazdani and Cymin Samawatie, curators
Andreas Rochholl, producer and filmmaker
Daniel Weingarten and Volker Wendisch, sound directors
Daria Rochholl, office management
Nouchka Wolf, stage management
Joo-Eun Kim, body work, Yoga
Esther Klobe Weihmann, artist support
Neda Navaee, Setphotograper
Female voice of Iran is a project created by Zeitgenössische Oper Berlin
funded by


In cooperation with